Nodeware provides on-demand and scheduled reports that provide an optional high-level summary as well as a detailed vulnerability results from the last scan. As Nodeware is a continuous scanning product, the reporting period is representative of all hosts on the selected customer networks in the last 30 days.
To get started with reporting, visit the Reports dashboard from the main menu. If you have previously run reports, they will be listed in the table and are available to download and view. To run a report on demand, select Run Report in the lower left tile, after selecting the customer (MSP only), report type, and whether or not to include the Executive Summary. See the Sample Report at the end of this article for an example of the Executive Summary.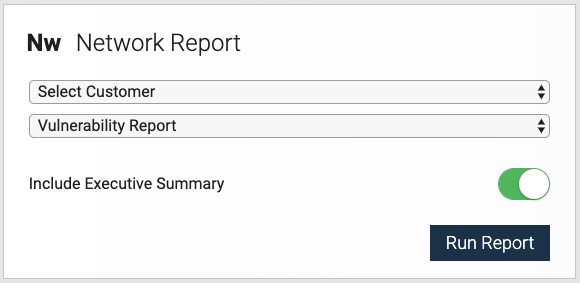 The report generation start immediately and should take less than a minute, depending on customer or network size. Reports are available in two formats, HTML and PDF, with the HTML reports ready for download immediately, and the PDF shortly thereafter.

Deleting a report
Reports are stored securely and are available for later download indefinitely, unless deleted by a user. The delete option on the report entry will prompt for confirmation, once received the report will be purged from the report storage securely. All deletions are final and non-reversible.
Scheduled reports
Reports can be generated on a monthly basis utilizing the scheduler in the Reports dashboard. To begin, select Setup Schedule from the top right of the dashboard. You will then be prompted to change from on demand to monthly reports, selecting the day of the month, type of report, whether to include the Executive Summary, and if you have an MSP account, whether to run reports for all customers or just a subset. Then click Save to lock in the schedule.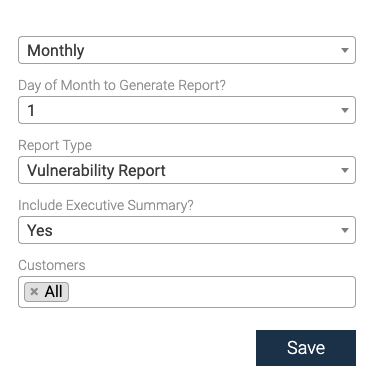 You will receive an email the morning of the date you have selected to let you know that your reports are ready to view and download.
Sample report